Продолжение серии материалов «Cultural Reader», информация о Великобритании.
Перейти в начало — Great Britain (Общая информация о Великобритании), British Climate (Климат Британии), National Stereotypes (Национальные стереотипы), London (Лондон), Famous British Cities and Towns (Британские города и поселки), British Educational System (Система образования Британии).
British Holidays
There are fewer public holidays in Great Britain than in other European countries. They are: Christmas Day, Boxing Day, New Year's Day, Good Friday, Easter Monday, May Day, Spring Bank Holiday and Summer Bank Holiday. Public holidays in GB are called bank holidays, because banks, offices and shops are closed.
The most popular holiday is Christmas. It is celebrated on the 25th of December. Every year the people of Norway give the city of London a present. It's a big Christmas tree and it stands in Trafalgar Square. Central streets are beautifully decorated. The British send Christmas cards to greet each other. Most houses are decorated with holly and there is usually a Christmas tree in the corner of one of the rooms. Children hang their stockings on their beds hoping that Father Christmas will come with toys and sweets. Christmas is a family holiday. The family usually meets for a traditional dinner of turkey and Christmas pudding. Everyone gives and receives presents.
December the 26th is Boxing Day, which takes its name from the old custom of giving workers an annual present in Christmas boxes. Today this is the time to visit friends and relatives, or to sit in front of the TV.
New Year's Day is less popular in Britain than Christmas. But in Scotland, Hogmanay is the biggest festival of the year. After midnight people go 'first-footing'. They call at friends' houses, trying to be the first person through the door after midnight. The appearance of the first-footer is associated with luck that will be in the next year. The luckiest type of the first-footer is a tall, dark man.
Easter is also a religious holiday and is celebrated in spring. Most people go to church services on that day and give each other chocolate Easter eggs. On Easter Monday people make a one-day trip to the seaside or go to a football match or horse racing.
Besides public holidays there are festivals, such as Pancake Day, April Fool's Day, Halloween, Guy Fawkes Night, St. Valentine's Day and others.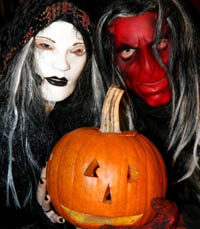 Хэллоуин (Halloween)
Guy Fawkes Night, or more commonly, Bonfire Night, is a very popular festival. It goes back to the days of King James I when Guy Fawkes tried to blow up the Houses of Parliament. But he was discovered and arrested. Since that time, on the 5th of November, people burn the dummy of Guy Fawkes, made of straw, on a bonfire. On the 14th of February people celebrate St. Valentine's Day by sending a card to the one they love. Usually you don't sign your name. The person who receives the card has to guess who sent it.
These holidays are not days off But they help to keep many traditions, which the British have always been famous for.