Ознакомительные тексты по различным аспектам современной жизни: Страны, Города, Общество, Политическая система, Высшее образование, Календарь праздников.
Ниже предлагается материал по теме «Города», раздел — «Аренда спецтехники».
Rental of special equipment for various works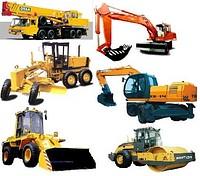 Today it is impossible to imagine the area of production or other activities, which would not be required to use special equipment — whether it is cargo, construction, warehouse services, public utilities, mining and heavy machinery. The application of one or another kind of special equipment is carried out depending on the tasks, depending on the composition of the work performed, the leased equipment is supplied with the required characteristics and equipment.
As a rule, most of the special mechanisms of the lump sum combines the functions of several items of special equipment. For example, often used in the construction work loaders are able to perform the functions of the bulldozer, excavator, scraper, scheduler, думпера, and in doing so successfully replace excavator in the conditions of the limited space for maneuvering.
For the implementation of complex of works at the height of companies use different aerial platforms. Offered for rent aerial platforms can be selected according to various characteristics depending on the height of lifting, construction boom and the type of automobile chassis.
Most of the construction work cannot be done without the use of various kinds of manipulators and load-lifting mechanisms, as stationary cranes very often lose on their performance, flexible, mobile and compact technology in the form of a crane, crane and excavator-loader. It is obvious that instead of rent of tower crane and other necessary mechanisms most organizations prefer to get the use of a single multifunctional unit, such as the universal mobile crane.
Rent compact loader also ordered many of the organization for the realization of loading-unloading, simple earth-moving and construction-assembly works.
Tracked and wheeled bulldozers, excavators belong to the category of special equipment, without which it can not do any one company, carrying out construction works. In addition, the existing possibility to install the excavator other special mechanisms, for example, the breaker or a special ladle for the destruction of buildings, makes it even more functional.
Renting of excavators of various very often are used by companies specializing in the field of road construction, laying of power and telephone cables, cottage construction and communal services.
It is obvious, that the market of rent of special equipment rests on the fact that very few companies can afford on a permanent basis contain their own fleet or even just the garage, due to the services of the lease of special equipment will further develop and be well in demand on the market. The company, leased equipment, saves its assets: only pays for the rental of special equipment, and operating costs must be borne by the owners of the company-landlords.